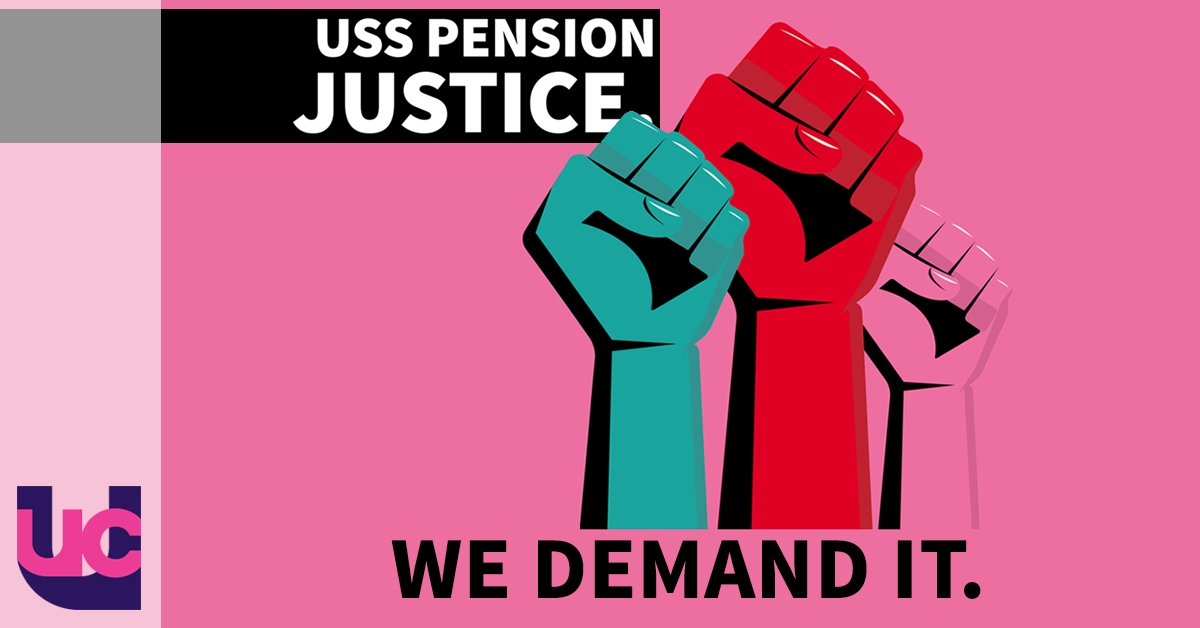 UCU's higher education committee has agreed to launch an industrial action ballot in the dispute over the future of USS. They have said serious and sustained industrial action is required in the face of damaging proposals from the employers which would effectively destroy the pension scheme.
USS pensions already LOWER than school teachers and 'new' university academics
employers can afford to pay more but REFUSE
latest proposals end guaranteed pensions and REDUCE retirement income for all.
Message from UCU general secretary, Sally Hunt
Since the result of UCU's ballot in which 86.6% of members said they would be prepared to take industrial action to defend pensions, I have been trying my best to reach agreement with your employers on a way forward for our University Superannuation Scheme (USS) pension fund.
This week however, Universities UK (UUK) have made a proposal to UCU which would mean the effective end of USS as we know it. It is the worst proposal I have received in twenty years of representing university staff and we need to fight it.
UUK's proposal is that – apart from death and incapacity benefit – USS should now become what is called a fully defined contribution (DC) scheme.
In effect this means that your final pension is no longer guaranteed, but instead will be wholly dependent upon returns from the stock market on your 'investment'.
Why does this matter? A 2016 study by financial advisors Tilney Bestinvest estimated that the same annual contributions made into a defined contribution scheme would lead to a final pension worth around 20% of that in the best defined benefit schemes.
Nobody knows yet whether the USS proposal will be as bad as that, but we do know that if we let this happen without a fight you and your colleagues will face years of enormous uncertainty about your retirement income.
Everyone will be affected by this, with all but those closest to retirement facing a significant reduction in their income, but the biggest sufferers of course will be those at the beginning of their career – another slap in the face for people already facing casual contracts and poor promotion prospects.
This proposal has been made despite the fact that USS themselves have shown that most employers can afford to pay more to help secure existing benefits and despite the fact that a majority of employers who responded to UUK's own consultation said they wanted to retain a defined benefit scheme.
Indeed, when you consider that our employers have reduced spending on staff as a proportion of expenditure by 5% in the last ten years saving the equivalent of close to £2bn, the suggestion that destroying the basis of our pension scheme is the only option open to them is plain silly. They are choosing to do this.
Yet, as I have met more and more vice-chancellors to discuss USS, it has become clearer to me that the position put nationally by UUK does not reflect that put privately by many of the largest employers of USS members. The steps taken this week to destroy the basis of the fund seem to come rather from a small number of hawkish employers, many of whom have done very well out of USS themselves and now wish to pull up the ladder.
I hope you can appreciate that this situation is very serious.  There is no point pretending that anything other than sustained strike action with the aim of hugely disrupting (and not rescheduling) lectures and classes in the New Year will make the employers listen.
This is not something that I ask you to do lightly. I know first-hand that you always put your students first. However, this dreadful proposal is predicated, in my opinion, on the employers' belief that because you care you will put up with this rather than fight and risk damaging students.
We will have to show them otherwise or see retirement incomes cut.
UCU will continue to seek negotiations but please understand that, without a substantial mandate from UCU members for action, we will have little chance of succeeding.
The road ahead is tough, but I know the union can count on your support.
Please share this message and invite others to join UCU.
Thank you.
Sally Hunt
UCU general secretary